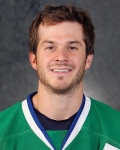 The Penguins had their five-game winning streak snapped with a 4-2 road loss to the Rochester Americans Friday.
Forward Chad Kolarik (right), acquired in a trade from the Rangers Thursday, scored the Penguins' first goal in his debut with the team during the first period. The Penguins' other goal was scored by center Zach Sill during the second period.
Goaltender Brad Thiessen recorded the loss after making 14 saves.
The Penguins' next game is Saturday on the road against the Toronto Marlies, 5 p.m.
---
The Nailers snapped a three-game losing streak with a 3-2 home win against the Bakersfield Condors Friday.
Defenseman Zach Hansen led Wheeling with a first period goal and an assist. Forwards Matt Germain and Christiaan Minella scored the Nailers' other goals in the first and third period respectively.
Goaltender Scott Darling made 28 saves in the victory.
The Nailers' next game is on the road Saturday against the Trenton Titans, 7:05 p.m.
Comments on this article: